Properties - Hot Finished Elliptical Hollow Sections
Welcome to our Hot Finished Elliptical Hollow Section properties page! Here you'll find properties for all UK Hot Finished Elliptical Hollow Section steel sections described by the Steelwork Design Guide to BS5950-1:2000, Volume 1, Section Properties, Member Capacities, 7th Edition (also known as The Blue Book). Sort the table below according to any property and select a CAD file to download using the reference links in the left-most column.
For less than £10, you can also purchase all our CAD data in one easy download, containing the shapes as individual files or AutoCAD Design Center files! Click here to visit our Shop.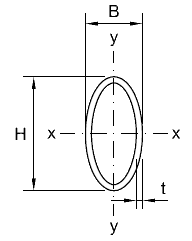 Section Reference
Second Moment of Area
Radius of Gyration
Elastic Modulus
Plastic Modulus
Torsional Constants
Surface Area
Axis
x-x
Axis
y-y
Axis
x-x
Axis
y-y
Axis
x-x
Axis
y-y
Axis
x-x
Axis
y-y
Per Metre
Per Tonne
cm4
cm4
cm
cm
cm3
cm3
cm3
cm3
J
cm4
C
cm3
m2
m2
150x75x4.0
301
101
4.7
2.72
40.1
26.9
56.1
34.4
303
60.1
0.363
33.9
150x75x5.0
367
122
4.66
2.69
48.9
32.5
68.9
42
367
72.2
0.363
27.4
150x75x6.3
448
147
4.62
2.64
59.7
39.1
84.9
51.5
443
86.3
0.363
22
200x100x5.0
897
302
6.27
3.64
89.7
60.4
125
76.8
905
135
0.484
27.1
200x100x6.3
1100
368
6.23
3.6
110
73.5
155
94.7
1110
163
0.484
21.7
200x100x8.0
1360
446
6.17
3.54
136
89.3
193
117
1350
197
0.484
17.3
200x100x10.0
1640
529
6.1
3.47
164
106
235
141
1610
232
0.484
14
250x125x6.3
2210
742
7.84
4.55
176
119
246
151
2220
265
0.605
21.5
250x125x8.0
2730
909
7.78
4.49
219
145
307
188
2730
323
0.605
17.1
250x125x10.0
3320
1090
7.71
4.42
265
174
376
228
3290
385
0.605
13.8
250x125x12.5
4000
1290
7.63
4.34
320
207
458
276
3920
453
0.605
11.2
300x150x8.0
4810
1620
9.39
5.44
321
215
449
275
4850
481
0.726
17
300x150x10.0
5870
1950
9.32
5.37
391
260
551
336
5870
577
0.726
13.7
300x150x12.5
7120
2330
9.24
5.29
475
311
674
409
7050
686
0.726
11.1
300x150x16.0
8730
2810
9.12
5.17
582
374
837
503
8530
818
0.726
8.81
400x200x8.0
11700
3970
12.6
7.35
584
397
811
500
11900
890
0.969
16.8
400x200x10.0
14300
4830
12.5
7.28
717
483
1000
615
14500
1080
0.969
13.5
400x200x12.5
17500
5840
12.5
7.19
877
584
1230
753
17600
1300
0.969
10.9
400x200x16.0
21700
7140
12.3
7.07
1090
714
1540
936
21600
1580
0.969
8.64
500x250x10.0
28539
9682
15.8
9.2
1142
775
1585
976
28950
1739
1.21
13.5
500x250x12.5
35000
11800
15.7
9.1
1400
943
1960
1200
35300
2110
1.21
10.8
500x250x16.0
43700
14500
15.6
8.98
1750
1160
2460
1500
43700
2590
1.21
8.55