Properties - Cold-Formed Rectangular Hollow Sections
Welcome to our Cold-Formed Rectangular Hollow Section properties page! Here you'll find properties for all UK Cold-Formed Rectangular Hollow Section steel sections described by the Steelwork Design Guide to BS5950-1:2000, Volume 1, Section Properties, Member Capacities, 7th Edition (also known as The Blue Book). Sort the table below according to any property and select a CAD file to download using the reference links in the left-most column.
For less than £10, you can also purchase all our CAD data in one easy download, containing the shapes as individual files or AutoCAD Design Center files! Click here to visit our Shop.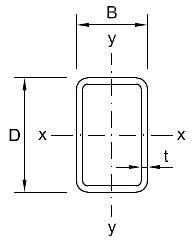 Section Reference
Ratios for Local Buckling
Second Moment of Area
Radius of Gyration
Elastic Modulus
Plastic Modulus
Torsional Constants
Surface Area
Axis
x-x
Axis
y-y
Axis
x-x
Axis
y-y
Axis
x-x
Axis
yy
Axis
x-x
Axis
y-y
Per Metre
Per Tonne
d/t(1)
b/t(1)
cm4
cm4
cm
cm
cm3
cm3
cm3
cm3
J
cm4
C
cm3
m2
m2
50x25x2.0
20
7.5
8.38
2.81
1.75
1.01
3.35
2.25
4.26
2.62
7.06
3.92
0.143
66.6
50x25x3.0
11.7
3.33
11.2
3.67
1.69
0.969
4.47
2.93
5.86
3.56
9.64
5.18
0.14
45.5
50x30x2.5
15
7
11.3
5.05
1.77
1.19
4.52
3.37
5.7
3.98
11.7
5.72
0.151
53.7
50x30x3.0
11.7
5
12.8
5.7
1.75
1.16
5.13
3.8
6.57
4.58
13.5
6.49
0.15
45.3
50x30x4.0
7.5
2.5
15.3
6.69
1.69
1.12
6.1
4.46
8.05
5.58
16.5
7.71
0.146
34.8
60x30x3.0
15
5
20.5
6.8
2.06
1.19
6.83
4.53
8.82
5.39
17.5
7.95
0.17
45
60x30x4.0
10
2.5
24.7
8.06
2
1.14
8.23
5.37
10.9
6.62
21.5
9.52
0.166
34.5
60x40x3.0
15
8.33
25.4
13.4
2.17
1.58
8.46
6.72
10.5
7.94
29.3
11.2
0.19
44.7
60x40x4.0
10
5
31
16.3
2.11
1.53
10.3
8.14
13.2
9.89
36.7
13.7
0.186
34.2
60x40x5.0
7
3
35.3
18.4
2.06
1.48
11.8
9.21
15.4
11.5
42.8
15.6
0.183
27.9
70x40x3.0
18.3
8.33
37.3
15.5
2.49
1.61
10.7
7.75
13.4
9.05
36.5
13.2
0.21
44.5
70x40x4.0
12.5
5
46
18.9
2.44
1.56
13.1
9.44
16.8
11.3
45.8
16.2
0.206
33.9
70x50x3.0
18.3
11.7
44.1
26.1
2.58
1.99
12.6
10.4
15.4
12.2
53.6
17.1
0.23
44.3
70x50x4.0
12.5
7.5
54.7
32.2
2.53
1.94
15.6
12.9
19.5
15.4
68.1
21.2
0.226
33.7
80x40x3.0
21.7
8.33
52.3
17.6
2.81
1.63
13.1
8.78
16.5
10.2
43.9
15.3
0.23
44.3
80x40x4.0
15
5
64.8
21.5
2.75
1.59
16.2
10.7
20.9
12.8
55.2
18.8
0.226
33.7
80x40x5.0
11
3
75.1
24.6
2.69
1.54
18.8
12.3
24.7
15
65
21.7
0.223
27.4
80x50x3.0
21.7
11.7
61.1
29.4
2.91
2.02
15.3
11.8
18.8
13.6
65
19.7
0.25
44.1
80x50x4.0
15
7.5
76.4
36.5
2.86
1.98
19.1
14.6
24
17.2
82.7
24.6
0.246
33.6
80x50x5.0
11
5
89.2
42.3
2.8
1.93
22.3
16.9
28.5
20.5
98.4
28.7
0.243
27.2
80x60x3.0
21.7
15
70
44.9
3
2.4
17.5
15
21.2
17.4
88.3
24.1
0.27
44
80x60x4.0
15
10
87.9
56.1
2.94
2.35
22
18.7
27
22.1
113
30.3
0.266
33.4
80x60x5.0
11
7
103
65.7
2.89
2.31
25.8
21.9
32.2
26.4
136
35.7
0.263
27.1
90x50x3.0
25
11.7
81.9
32.7
3.24
2.05
18.2
13.1
22.6
15
76.7
22.4
0.27
44
90x50x4.0
17.5
7.5
103
40.7
3.18
2
22.8
16.3
28.8
19.1
97.7
28
0.266
33.4
90x50x5.0
13
5
121
47.4
3.12
1.96
26.8
18.9
34.4
22.7
116
32.7
0.263
27.1
100x40x3.0
28.3
8.33
92.3
21.7
3.44
1.67
18.5
10.8
23.7
12.4
59
19.4
0.27
44
100x40x4.0
20
5
116
26.7
3.38
1.62
23.1
13.3
30.3
15.7
74.5
24
0.266
33.4
100x40x5.0
15
3
136
30.8
3.31
1.58
27.1
15.4
36.1
18.5
87.9
27.9
0.263
27.1
100x50x3.0
28.3
11.7
106
36.1
3.56
2.07
21.3
14.4
26.7
16.4
88.6
25
0.29
43.9
100x50x4.0
20
7.5
134
44.9
3.5
2.03
26.8
18
34.1
20.9
113
31.3
0.286
33.3
100x50x5.0
15
5
158
52.5
3.44
1.98
31.6
21
40.8
25
135
36.8
0.283
27
100x50x6.0
11.7
3.33
179
58.7
3.38
1.94
35.8
23.5
46.9
28.5
154
41.4
0.279
22.8
100x60x3.0
28.3
15
121
54.6
3.66
2.46
24.1
18.2
29.6
20.8
122
30.6
0.31
43.8
100x60x3.5
23.6
12.1
137
61.9
3.63
2.44
27.4
20.6
33.8
23.8
139
34.8
0.308
37.7
100x60x4.0
20
10
153
68.7
3.6
2.42
30.5
22.9
37.9
26.6
156
38.7
0.306
33.2
100x60x5.0
15
7
181
80.8
3.55
2.37
36.2
26.9
45.6
31.9
188
45.8
0.303
26.9
100x60x6.0
11.7
5
205
91.2
3.49
2.33
41.1
30.4
52.5
36.6
216
51.9
0.299
22.7
100x80x3.0
28.3
21.7
149
106
3.82
3.22
29.8
26.4
35.4
30.4
196
41.9
0.35
43.6
100x80x4.0
20
15
189
134
3.77
3.17
37.9
33.5
45.6
39.2
254
53.4
0.346
33
100x80x5.0
15
11
226
160
3.72
3.12
45.2
39.9
55.1
47.2
308
63.7
0.343
26.7
120x40x3.0
35
8.33
148
25.8
4.05
1.69
24.7
12.9
32.2
14.6
74.6
23.5
0.31
43.8
120x40x4.0
25
5
187
31.9
3.99
1.65
31.1
15.9
41.2
18.5
94.2
29.2
0.306
33.2
120x40x5.0
19
3
221
36.9
3.92
1.6
36.8
18.5
49.4
22
111
34.1
0.303
26.9
120x60x3.0
35
15
189
64.4
4.3
2.51
31.5
21.5
39.2
24.2
156
37.1
0.35
43.6
120x60x3.5
29.3
12.1
216
73.1
4.28
2.49
35.9
24.4
44.9
27.7
179
42.2
0.348
37.6
120x60x4.0
25
10
241
81.2
4.25
2.47
40.1
27.1
50.5
31.1
201
47
0.346
33
120x60x5.0
19
7
287
96
4.19
2.42
47.8
32
60.9
37.4
242
55.8
0.343
26.7
120x60x6.0
15
5
328
109
4.13
2.38
54.7
36.3
70.6
43.1
280
63.6
0.339
22.5
120x80x4.0
25
15
295
157
4.44
3.24
49.1
39.3
59.8
45.2
331
64.9
0.386
32.9
120x80x5.0
19
11
353
188
4.39
3.2
58.9
46.9
72.4
54.7
402
77.8
0.383
26.6
120x80x6.0
15
8.33
406
215
4.33
3.15
67.7
53.8
84.3
63.5
469
89.4
0.379
22.3
120x80x8.0
10
5
476
252
4.18
3.04
79.3
62.9
102
76.9
584
108
0.366
17.1
140x80x3.0
41.7
21.7
334
141
5.15
3.35
47.8
35.3
58.2
39.6
317
59.7
0.43
43.4
140x80x4.0
30
15
430
180
5.1
3.3
61.4
45.1
75.5
51.3
412
76.5
0.426
32.8
140x80x5.0
23
11
517
216
5.04
3.26
73.9
54
91.8
62.2
501
91.8
0.423
26.5
140x80x6.0
18.3
8.33
597
248
4.98
3.21
85.3
62
107
72.4
584
106
0.419
22.2
140x80x8.0
12.5
5
708
293
4.82
3.1
101
73.3
131
88.4
731
129
0.406
17
140x80x10.0
9
3
804
330
4.69
3.01
115
82.6
152
103
851
147
0.397
13.8
150x100x3.0
45
28.3
461
248
5.65
4.15
61.4
49.5
73.5
55.8
507
81.4
0.49
43.3
150x100x4.0
32.5
20
595
319
5.6
4.1
79.3
63.7
95.7
72.5
662
105
0.486
32.7
150x100x5.0
25
15
719
384
5.55
4.05
95.9
76.8
117
88.3
809
127
0.483
26.3
150x100x6.0
20
11.7
835
444
5.5
4.01
111
88.8
137
103
948
147
0.479
22.1
150x100x8.0
13.8
7.5
1010
536
5.35
3.9
134
107
169
128
1210
182
0.466
16.8
150x100x10.0
10
5
1160
614
5.22
3.8
155
123
199
150
1430
211
0.457
13.7
160x80x4.0
35
15
598
204
5.74
3.35
74.7
50.9
92.9
57.4
494
88
0.466
32.7
160x80x5.0
27
11
722
244
5.68
3.3
90.2
61
113
69.7
601
106
0.463
26.4
160x80x6.0
21.7
8.33
836
281
5.62
3.26
105
70.2
132
81.3
702
122
0.459
22.1
160x80x8.0
15
5
1000
335
5.46
3.16
125
83.7
163
100
882
150
0.446
16.9
180x80x4.0
40
15
802
227
6.37
3.39
89.1
56.7
112
63.5
578
99.6
0.506
32.7
180x80x5.0
31
11
971
272
6.31
3.34
108
68.1
137
77.2
704
120
0.503
26.3
180x80x6.0
25
8.33
1130
314
6.25
3.3
125
78.5
160
90.2
823
139
0.499
22.1
180x80x8.0
17.5
5
1360
377
6.08
3.2
151
94.1
198
111
1040
170
0.486
16.8
180x80x10.0
13
3
1570
429
5.94
3.1
174
107
234
131
1210
196
0.477
13.6
180x100x4.0
40
20
926
374
6.59
4.18
103
74.8
126
84
854
127
0.546
32.6
180x100x5.0
31
15
1120
452
6.53
4.14
125
90.4
154
103
1050
154
0.543
26.2
180x100x6.0
25
11.7
1310
524
6.48
4.1
146
105
181
120
1230
179
0.539
22
180x100x8.0
17.5
7.5
1600
637
6.32
3.99
178
127
226
150
1570
222
0.526
16.7
180x100x10.0
13
5
1860
736
6.19
3.89
207
147
268
177
1860
260
0.517
13.6
200x100x4.0
45
20
1200
411
7.23
4.23
120
82.2
148
91.7
985
142
0.586
32.5
200x100x5.0
35
15
1460
497
7.17
4.19
146
99.4
181
112
1210
172
0.583
26.2
200x100x6.0
28.3
11.7
1700
577
7.12
4.14
170
115
213
132
1420
200
0.579
21.9
200x100x8.0
20
7.5
2090
705
6.95
4.04
209
141
267
165
1810
250
0.566
16.7
200x100x10.0
15
5
2440
818
6.82
3.94
244
164
318
195
2150
292
0.557
13.5
200x120x4.0
45
25
1350
618
7.43
5.02
135
103
164
115
1350
172
0.626
32.5
200x120x5.0
35
19
1650
750
7.37
4.97
165
125
201
141
1650
210
0.623
26.1
200x120x6.0
28.3
15
1930
874
7.32
4.93
193
146
237
166
1950
245
0.619
21.9
200x120x8.0
20
10
2390
1080
7.17
4.82
239
180
298
209
2510
308
0.606
16.6
200x120x10.0
15
7
2810
1260
7.04
4.72
281
210
356
250
3010
364
0.597
13.4
200x150x4.0
45
32.5
1580
1020
7.67
6.16
158
136
187
154
1940
219
0.686
32.4
200x150x5.0
35
25
1940
1250
7.62
6.11
193
166
230
189
2390
267
0.683
26.1
200x150x6.0
28.3
20
2270
1460
7.56
6.06
227
194
271
223
2830
313
0.679
21.8
200x150x8.0
20
13.8
2830
1820
7.43
5.95
283
242
344
283
3670
396
0.666
16.5
200x150x10.0
15
10
3350
2140
7.31
5.85
335
286
413
339
4430
471
0.657
13.4
250x150x5.0
45
25
3300
1510
9.28
6.27
264
201
320
225
3290
337
0.783
26
250x150x6.0
36.7
20
3890
1770
9.23
6.23
311
236
378
266
3890
396
0.779
21.8
250x150x8.0
26.3
13.8
4890
2220
9.08
6.12
391
296
482
340
5050
504
0.766
16.5
250x150x10.0
20
10
5830
2630
8.96
6.02
466
351
582
409
6120
602
0.757
13.3
250x150x12.0
15.8
7.5
6460
2930
8.77
5.9
517
390
658
463
7090
684
0.738
11.2
250x150x12.5
15
7
6630
3000
8.73
5.87
531
400
678
477
7320
704
0.736
10.8
300x100x6.0
45
11.7
4780
842
10.2
4.3
318
168
411
188
2400
306
0.779
21.8
300x100x8.0
32.5
7.5
5980
1050
10
4.2
399
209
523
238
3080
385
0.766
16.5
300x100x10.0
25
5
7110
1220
9.9
4.11
474
245
631
285
3680
455
0.757
13.3
300x100x12.5
19
3
8010
1370
9.59
3.97
534
275
732
330
4290
521
0.736
10.8
300x200x6.0
45
28.3
7370
3960
11.3
8.29
491
396
588
446
8120
651
0.979
21.6
300x200x8.0
32.5
20
9390
5040
11.2
8.19
626
504
757
574
10600
838
0.966
16.3
300x200x10.0
25
15
11300
6060
11.1
8.09
754
606
921
698
13000
1010
0.957
13.2
300x200x12.0
20
11.7
12800
6850
10.9
7.96
853
685
1060
801
15200
1170
0.938
11.1
300x200x12.5
19
11
13200
7060
10.8
7.94
879
706
1090
828
15800
1200
0.936
10.6
400x200x8.0
45
20
19000
6520
14.4
8.45
949
652
1170
728
15800
1130
1.17
16.3
400x200x10.0
35
15
23000
7860
14.3
8.36
1150
786
1430
888
19400
1370
1.16
13.1
400x200x12.0
28.3
11.7
26200
8980
14.1
8.24
1310
898
1660
1030
22800
1590
1.14
11
400x200x12.5
27
11
27100
9260
14.1
8.22
1360
926
1710
1060
23600
1640
1.14
10.6
450x250x8.0
51.3
26.3
29300
11900
16.5
10.5
1300
953
1590
1060
27200
1630
1.37
16.2
450x250x10.0
40
20
35700
14500
16.4
10.4
1590
1160
1950
1300
33500
1980
1.36
13
450x250x12.0
32.5
15.8
41100
16700
16.2
10.3
1830
1330
2260
1520
39600
2310
1.34
10.9
450x250x12.5
31
15
42500
17200
16.2
10.3
1890
1380
2350
1570
41100
2390
1.34
10.5
500x300x8.0
57.5
32.5
42800
19600
18.6
12.6
1710
1310
2060
1460
42800
2200
1.57
16.2
500x300x10.0
45
25
52300
23900
18.5
12.5
2090
1600
2540
1790
52700
2690
1.56
13
500x300x12.0
36.7
20
60600
27700
18.3
12.4
2420
1850
2960
2090
62600
3160
1.54
10.9
500x300x12.5
35
19
62700
28700
18.3
12.4
2510
1910
3070
2170
65000
3270
1.54
10.5