Dimensions - Parallel Flange Channels
Welcome to our Parallel Flange Channel dimensions page! Here you'll find dimensions for all UK Parallel Flange Channel steel sections described by the Steelwork Design Guide to BS5950-1:2000, Volume 1, Section Properties, Member Capacities, 7th Edition (also known as The Blue Book). Sort the table below according to any property and select a CAD file to download using the reference links in the left-most column.
You can also buy and download all our content, in one easy .zip file! Click here to visit our Shop.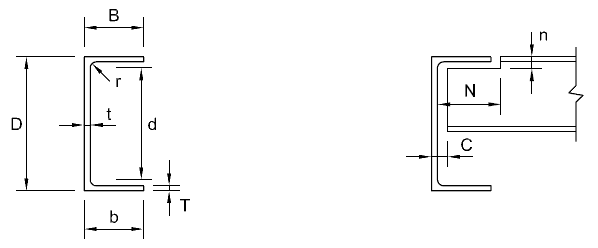 Section Reference
Mass per Metre
Depth of Section
Width of Section
Thickness
Root Radius
Depth between Fillets
Ratios for Local Buckling
Dimensions for Detailing
Surface Area
Web
Flange
Flange
Web
End Clearance
Notch
Per Metre
Per Tonne
kg/m
D
mm
B
mm
t
mm
T
mm
r
mm
d
mm
b/T
d/t
C
mm
N
mm
n
mm
m2
m2
430x100x64
64.4
430
100
11
19
15
362
5.26
32.9
13
96
36
1.23
19
380x100x54
54
380
100
9.5
17.5
15
315
5.71
33.2
12
98
34
1.13
20.9
300x100x46
45.5
300
100
9
16.5
15
237
6.06
26.3
11
98
32
0.969
21.3
300x90x41
41.4
300
90
9
15.5
12
245
5.81
27.2
11
88
28
0.932
22.5
260x90x35
34.8
260
90
8
14
12
208
6.43
26
10
88
28
0.854
24.5
260x75x28
27.6
260
75
7
12
12
212
6.25
30.3
9
74
26
0.796
28.8
230x90x32
32.2
230
90
7.5
14
12
178
6.43
23.7
10
90
28
0.795
24.7
230x75x26
25.7
230
75
6.5
12.5
12
181
6
27.8
9
76
26
0.737
28.7
200x90x30
29.7
200
90
7
14
12
148
6.43
21.1
9
90
28
0.736
24.8
200x75x23
23.4
200
75
6
12.5
12
151
6
25.2
8
76
26
0.678
28.9
180x90x26
26.1
180
90
6.5
12.5
12
131
7.2
20.2
9
90
26
0.697
26.7
180x75x20
20.3
180
75
6
10.5
12
135
7.14
22.5
8
76
24
0.638
31.4
150x90x24
23.9
150
90
6.5
12
12
102
7.5
15.7
9
90
26
0.637
26.7
150x75x18
17.9
150
75
5.5
10
12
106
7.5
19.3
8
76
24
0.579
32.4
125x65x15
14.8
125
65
5.5
9.5
12
82
6.84
14.9
8
66
22
0.489
33.1
100x50x10
10.2
100
50
5
8.5
9
65
5.88
13
7
52
18
0.382
37.5