Properties - Universal Columns
Welcome to our Universal Column properties page! Here you'll find properties for all UK Universal Column steel sections described by the Steelwork Design Guide to BS5950-1:2000, Volume 1, Section Properties, Member Capacities, 7th Edition (also known as The Blue Book). Sort the table below according to any property and select a CAD file to download using the reference links in the left-most column.
You can also buy and download all our content, in one easy .zip file! Click here to visit our Shop.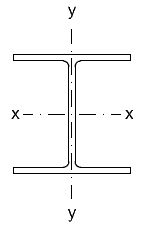 Section Reference
Second Moment of Area
Radius of Gyration
Elastic Modulus
Plastic Modulus
Buckling Parameter
Torsional Index
Warping Constant
Torsional Constant
Area of Section
Axis
x-x
Axis
y-y
Axis
x-x
Axis
y-y
Axis
x-x
Axis
y-y
Axis
x-x
Axis
y-y
cm4
cm4
cm
cm
cm3
cm3
cm3
cm3
u
x
H
dm6
J
cm4
A
cm2
356x406x634
275000
98100
18.4
11
11600
4630
14200
7110
0.843
5.46
38.8
13700
808
356x406x551
227000
82700
18
10.9
9960
3950
12100
6060
0.841
6.05
31.1
9240
702
356x406x467
183000
67800
17.5
10.7
8380
3290
10000
5030
0.839
6.86
24.3
5810
595
356x406x393
147000
55400
17.1
10.5
7000
2720
8220
4150
0.837
7.86
18.9
3550
501
356x406x340
123000
46900
16.8
10.4
6030
2330
7000
3540
0.836
8.85
15.5
2340
433
356x406x287
99900
38700
16.5
10.3
5070
1940
5810
2950
0.835
10.2
12.3
1440
366
356x406x235
79100
31000
16.3
10.2
4150
1570
4690
2380
0.834
12.1
9.54
812
299
356x368x202
66300
23700
16.1
9.6
3540
1260
3970
1920
0.844
13.4
7.16
558
257
356x368x177
57100
20500
15.9
9.54
3100
1100
3460
1670
0.844
15
6.09
381
226
356x368x153
48600
17600
15.8
9.49
2680
948
2960
1430
0.844
17
5.11
251
195
356x368x129
40200
14600
15.6
9.43
2260
793
2480
1200
0.844
19.9
4.18
153
164
305x305x283
78900
24600
14.8
8.27
4320
1530
5110
2340
0.855
7.65
6.35
2030
360
305x305x240
64200
20300
14.5
8.15
3640
1280
4250
1950
0.854
8.74
5.03
1270
306
305x305x198
50900
16300
14.2
8.04
3000
1040
3440
1580
0.854
10.2
3.88
734
252
305x305x158
38700
12600
13.9
7.9
2370
808
2680
1230
0.851
12.5
2.87
378
201
305x305x137
32800
10700
13.7
7.83
2050
692
2300
1050
0.851
14.2
2.39
249
174
305x305x118
27700
9060
13.6
7.77
1760
589
1960
895
0.85
16.2
1.98
161
150
305x305x97
22200
7310
13.4
7.69
1450
479
1590
726
0.85
19.3
1.56
91.2
123
254x254x167
30000
9870
11.9
6.81
2080
744
2420
1140
0.851
8.49
1.63
626
213
254x254x132
22500
7530
11.6
6.69
1630
576
1870
878
0.85
10.3
1.19
319
168
254x254x107
17500
5930
11.3
6.59
1310
458
1480
697
0.848
12.4
0.898
172
136
254x254x89
14300
4860
11.2
6.55
1100
379
1220
575
0.85
14.5
0.717
102
113
254x254x73
11400
3910
11.1
6.48
898
307
992
465
0.849
17.3
0.562
57.6
93.1
203x203x127
15400
4920
9.75
5.5
1280
460
1520
704
0.854
7.38
0.549
427
162
203x203x113
13300
4290
9.59
5.45
1130
404
1330
618
0.853
8.11
0.464
305
145
203x203x100
11300
3680
9.44
5.39
988
350
1150
534
0.852
9.02
0.386
210
127
203x203x86
9450
3130
9.28
5.34
850
299
977
456
0.85
10.2
0.318
137
110
203x203x71
7620
2540
9.18
5.3
706
246
799
374
0.853
11.9
0.25
80.2
90.4
203x203x60
6120
2060
8.96
5.2
584
201
656
305
0.846
14.1
0.197
47.2
76.4
203x203x52
5260
1780
8.91
5.18
510
174
567
264
0.848
15.8
0.167
31.8
66.3
203x203x46
4570
1550
8.82
5.13
450
152
497
231
0.847
17.7
0.143
22.2
58.7
152x152x51
3230
1020
7.04
3.96
379
130
438
199
0.848
10.1
0.061
48.8
65.2
152x152x44
2700
860
6.94
3.92
326
110
372
169
0.848
11.5
0.05
31.7
56.1
152x152x37
2210
706
6.85
3.87
273
91.5
309
140
0.848
13.3
0.04
19.2
47.1
152x152x30
1750
560
6.76
3.83
222
73.3
248
112
0.849
16
0.031
10.5
38.3
152x152x23
1250
400
6.54
3.7
164
52.6
182
80.1
0.84
20.7
0.021
4.63
29.2