Properties - Hot Finished Circular Hollow Sections
Welcome to our Hot Finished Circular Hollow Section properties page! Here you'll find properties for all UK Hot Finished Circular Hollow Section steel sections described by the Steelwork Design Guide to BS5950-1:2000, Volume 1, Section Properties, Member Capacities, 7th Edition (also known as The Blue Book). Sort the table below according to any property and select a CAD file to download using the reference links in the left-most column.
You can also buy and download all our content, in one easy .zip file! Click here to visit our Shop.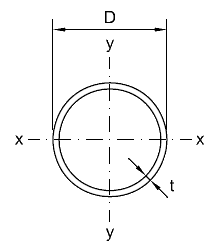 Section Reference
Ratio for Local Buckling
Second Moment of Area
Radius of Gyration
Elastic Modulus
Plastic Modulus
Torsional Constants
Surface Area
Per Metre
Per Tonne
D/t
I
cm4
r
cm
Z
cm3
S
cm3
J
cm4
C
cm3
m2
m2
26.9x3.2
8.41
1.7
0.846
1.27
1.81
3.41
2.53
0.085
45.2
33.7x2.6
13
3.09
1.1
1.84
2.52
6.19
3.67
0.106
53.1
33.7x3.2
10.5
3.6
1.08
2.14
2.99
7.21
4.28
0.106
44
33.7x4.0
8.43
4.19
1.06
2.49
3.55
8.38
4.97
0.106
36.1
42.4x2.6
16.3
6.46
1.41
3.05
4.12
12.9
6.1
0.133
52.2
42.4x3.2
13.3
7.62
1.39
3.59
4.93
15.2
7.19
0.133
43.1
42.4x4.0
10.6
8.99
1.36
4.24
5.92
18
8.48
0.133
35.2
42.4x5.0
8.48
10.5
1.33
4.93
7.04
20.9
9.86
0.133
28.9
48.3x3.2
15.1
11.6
1.6
4.8
6.52
23.2
9.59
0.152
42.6
48.3x4.0
12.1
13.8
1.57
5.7
7.87
27.5
11.4
0.152
34.7
48.3x5.0
9.66
16.2
1.54
6.69
9.42
32.3
13.4
0.152
28.4
60.3x3.2
18.8
23.5
2.02
7.78
10.4
46.9
15.6
0.189
42
60.3x4.0
15.1
28.2
2
9.34
12.7
56.3
18.7
0.189
34.1
60.3x5.0
12.1
33.5
1.96
11.1
15.3
67
22.2
0.189
27.8
76.1x2.9
26.2
44.7
2.59
11.8
15.5
89.5
23.5
0.239
45.7
76.1x3.2
23.8
48.8
2.58
12.8
17
97.6
25.6
0.239
41.6
76.1x4.0
19
59.1
2.55
15.5
20.8
118
31
0.239
33.6
76.1x5.0
15.2
70.9
2.52
18.6
25.3
142
37.3
0.239
27.3
88.9x3.2
27.8
79.2
3.03
17.8
23.5
158
35.6
0.279
41.3
88.9x4.0
22.2
96.3
3
21.7
28.9
193
43.3
0.279
33.3
88.9x5.0
17.8
116
2.97
26.2
35.2
233
52.4
0.279
27
88.9x6.3
14.1
140
2.93
31.5
43.1
280
63.1
0.279
21.8
114.3x3.2
35.7
172
3.93
30.2
39.5
345
60.4
0.359
41
114.3x3.6
31.8
192
3.92
33.6
44.1
384
67.2
0.359
36.5
114.3x4.0
28.6
211
3.9
36.9
48.7
422
73.9
0.359
33
114.3x5.0
22.9
257
3.87
45
59.8
514
89.9
0.359
26.6
114.3x6.3
18.1
313
3.82
54.7
73.6
625
109
0.359
21.4
139.7x5.0
27.9
481
4.77
68.8
90.8
961
138
0.439
26.4
139.7x6.3
22.2
589
4.72
84.3
112
1177
169
0.439
21.2
139.7x8.0
17.5
720
4.66
103
139
1441
206
0.439
16.9
139.7x10.0
14
862
4.6
123
169
1724
247
0.439
13.7
168.3x5.0
33.7
856
5.78
102
133
1710
203
0.529
26.3
168.3x6.3
26.7
1050
5.73
125
165
2110
250
0.529
21
168.3x8.0
21
1300
5.67
154
206
2600
308
0.529
16.7
168.3x10.0
16.8
1560
5.61
186
251
3130
372
0.529
13.5
168.3x12.5
13.5
1870
5.53
222
304
3740
444
0.529
11
193.7x5.0
38.7
1320
6.67
136
178
2640
273
0.609
26.2
193.7x6.3
30.7
1630
6.63
168
221
3260
337
0.609
20.9
193.7x8.0
24.2
2020
6.57
208
276
4030
416
0.609
16.6
193.7x10.0
19.4
2440
6.5
252
338
4880
504
0.609
13.4
193.7x12.5
15.5
2930
6.42
303
411
5870
606
0.609
10.9
219.1x5.0
43.8
1930
7.57
176
229
3860
352
0.688
26.1
219.1x6.3
34.8
2390
7.53
218
285
4770
436
0.688
20.8
219.1x8.0
27.4
2960
7.47
270
357
5920
540
0.688
16.5
219.1x10.0
21.9
3600
7.4
328
438
7200
657
0.688
13.3
219.1x12.5
17.5
4350
7.32
397
534
8690
793
0.688
10.8
219.1x14.2
15.4
4820
7.26
440
597
9640
880
0.688
9.59
219.1x16.0
13.7
5300
7.2
483
661
10600
967
0.688
8.59
244.5x8.0
30.6
4160
8.37
340
448
8320
681
0.768
16.5
244.5x10.0
24.5
5070
8.3
415
550
10100
830
0.768
13.3
244.5x12.5
19.6
6150
8.21
503
673
12300
1010
0.768
10.7
244.5x14.2
17.2
6840
8.16
559
754
13700
1120
0.768
9.52
244.5x16.0
15.3
7530
8.1
616
837
15100
1230
0.768
8.52
273.0x6.3
43.3
4700
9.43
344
448
9390
688
0.858
20.7
273.0x8.0
34.1
5850
9.37
429
562
11700
857
0.858
16.4
273.0x10.0
27.3
7150
9.31
524
692
14300
1050
0.858
13.2
273.0x12.5
21.8
8700
9.22
637
849
17400
1270
0.858
10.7
273.0x14.2
19.2
9700
9.16
710
952
19400
1420
0.858
9.46
273.0x16.0
17.1
10700
9.1
784
1060
21400
1570
0.858
8.46
323.9x6.3
51.4
7930
11.2
490
636
15900
979
1.02
20.6
323.9x8.0
40.5
9910
11.2
612
799
19800
1220
1.02
16.3
323.9x10.0
32.4
12200
11.1
751
986
24300
1500
1.02
13.1
323.9x12.5
25.9
14800
11
917
1210
29700
1830
1.02
10.6
323.9x14.2
22.8
16600
11
1030
1360
33200
2050
1.02
9.38
323.9x16.0
20.2
18400
10.9
1140
1520
36800
2270
1.02
8.38
355.6x14.2
25
22200
12.1
1250
1660
44500
2500
1.12
9.34
355.6x16.0
22.2
24700
12
1390
1850
49300
2770
1.12
8.34
406.4x6.3
64.5
15800
14.1
780
1010
31700
1560
1.28
20.5
406.4x8.0
50.8
19900
14.1
978
1270
39700
1960
1.28
16.2
406.4x10.0
40.6
24500
14
1210
1570
49000
2410
1.28
13.1
406.4x12.5
32.5
30000
13.9
1480
1940
60100
2960
1.28
10.5
406.4x14.2
28.6
33700
13.9
1660
2190
67400
3320
1.28
9.3
406.4x16.0
25.4
37400
13.8
1840
2440
74900
3690
1.28
8.29
457.0x8.0
57.1
28400
15.9
1250
1610
56900
2490
1.44
16.2
457.0x10.0
45.7
35100
15.8
1540
2000
70200
3070
1.44
13
457.0x12.5
36.6
43100
15.7
1890
2470
86300
3780
1.44
10.5
457.0x14.2
32.2
48500
15.7
2120
2790
96900
4240
1.44
9.26
457.0x16.0
28.6
54000
15.6
2360
3110
108000
4720
1.44
8.25
508.0x10.0
50.8
48500
17.6
1910
2480
97000
3820
1.6
13
508.0x12.5
40.6
59800
17.5
2350
3070
120000
4710
1.6
10.4
508.0x14.2
35.8
67200
17.5
2650
3460
134000
5290
1.6
9.23
508.0x16.0
31.8
74900
17.4
2950
3870
150000
5900
1.6
8.22